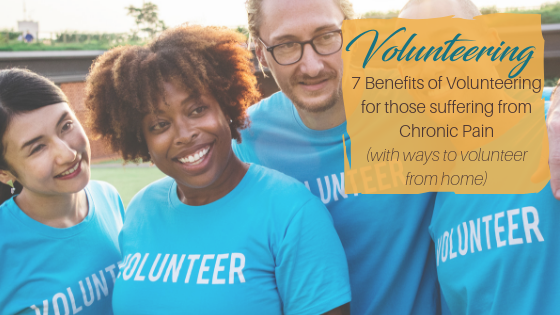 7 Benefits that of Volunteering for those suffering from Chronic Pain
Living with chronic pain is hard. As I read Amy's upcoming  memoir, Restoring Venus, it brought to my attention how hard it can be.  Struggling for years with my own severe depression and anxiety, I felt like no one really knew what I was going through. You may be tired of explaining your pain to others over and over. Everybody has their own thoughts about how you should be feeling and when your pain should be over. You feel isolated from friends, family, and co-workers. You feel tired from being stuck in the house and limited with what you can do.
Many times you are seeking something to break the cycle. To help you feel some sense of victory. Volunteering is a great way to do this. The possibilities of what you can do to volunteer are endless and the benefits are powerful.
Volunteering provides a temporary distraction from the pain
When you are suffering from chronic pain, you sometimes seek a distraction that helps you forget about it – just from a moment. Through volunteering, you have a chance to shift your thoughts to something different. There are projects you can do at home – assembling birthday bags for kids in Foster Care or knitting hats and scarves for men and women who are currently homeless and there are projects you can do outside, reading to children in an afterschool program, visiting senior citizens at a nursing home. Whatever the project is and wherever you feel comfortable doing the project, the experience allows you think about the person you are serving and you attention is on their circumstance.
Volunteering gets you out of the house
If you are feeling isolated, volunteering provides you with an opportunity to get out of the house for however long you are comfortable with. It could be for a few minutes to drop off treats to the local fire station or it could be for a couple of hours as you spend time in a community garden. What is important is that you trust what you are comfortable with and test out different things you can do. Volunteering allows you to be out of the house for something positive. As much as I enjoy a grocery shopping trip, being out of the house helping someone else, provides an instant gratification that lifts the spirit.
Volunteering helps you feel physically and mentally healthier
There are a number of studies where it is reported that volunteering helps you feel physically and mentally healthier. One study says that "Average pain intensity scores dropped after training and volunteering."  The reasons cited being that volunteers "make a connection" and "feel a sense of purpose".  Another study on how volunteering affects aging states, "The results of such efforts will not only help solve community problems, but simultaneously enhance the health of the growing number of older adults."
Doing something positive for others helps improve your mood and the endorphins released can help your pain experiece, helping you feel physically healthier.
Volunteering connects you with others and provides a support system
My favorite part of volunteering is connecting with other volunteers. They tend to have a more positive vibe and hopeful outlook. Volunteers have hope that what they are doing is for a purpose and what they are doing improves something. These are the people I like to hang out with. When suffering from depression and anxiety, I needed to see that there were good things happening. The connections I made demonstrated that and it provided me with a support system that was encouraging. I am also an introvert with social anxiety so being in groups made me nervous about contributing to conversations. With connecting through volunteer work, it helped ease that anxiety because I had a task to complete and I could talk about that task. I did not have to worry about small talk.
Volunteering allows you to use your experiences and gives you something to celebrate
One thing that has always stuck with me from talking to one volunteer was this statement, "I was so focused on what I couldn't do and what I felt that I lost, that I had forgotten everything that I could still do. Volunteering reminded me about my sense of purpose."
You have a long list of experiences that you can contribute to a volunteer opportunity. Take a moment to think about something you feel passionate about. It could be a sport you played, a talent you showcased, a love of a hobby.  There are numerous ways you can use that experience to help someone else. And in our digital world, the possibilities are even greater. You can tutor online, you can bake cookies, you can write letters to military service men and women. You can grow produce in a garden or herbs from your windowsill.  Then with a final product you can celebrate what you accomplished.
One of the most rewarding volunteer opportunities is to give back to something and someone who has helped you. If you have experienced something or learned something while managing your chronic pain, you can share that experience through volunteering to help someone in a similar circumstance.
So how do you find a volunteer opportunity that is best for you?
If you are looking for a volunteer opportunity you want to first examine your comfort levels and the time you want to commit. You can start small and then work your way up to different opportunities.
What if I can't leave the house?
There are many opportunities to serve that don't require you to leave the house.  You can connect with a local school. Many teachers need help with projects for their classroom. These projects may include putting together packets, cutting out bulletin board letters, sorting through Box Tops for Education, painting or drawing for classroom activities.
Similar tasks are needed for afterschool  programs, nursing homes, and community events.
How can I learn more?
Through my website, Project Stella Resources, I provide tips and step-by-step guides to meaningful service projects. Several posts to check out:
On my website you can also get  a free set of printable task cards with 15 Easy Kindness Activities that you and your family can do. This is great for starting out small but each activity has makes a big impact on someone's day.
About the Author:
Kim David is the founder of Project Stella Resources. She helps parents and educators find meaningful service projects for young volunteers. As someone diagnosed with depression and anxiety, doing volunteer work has been the game changer in helping her live a more productive life.  Her goal is to transform homes, schools, and communities with students who Radiate Outrageous Compassion & Kindness through the "Let's R.O.C.K." and "Schools that R.O.C.K." programs. She also has a book coming out in February, "52 Kids who R.O.C.K. Every Day: Inspiring stories of young people who Radiate Outrageous Compassion & Kindness"  You can pre-order this book through the Let's R.O.C.K. Store.