Restoring YOU Ep 08 Trish: SI Joint Fusion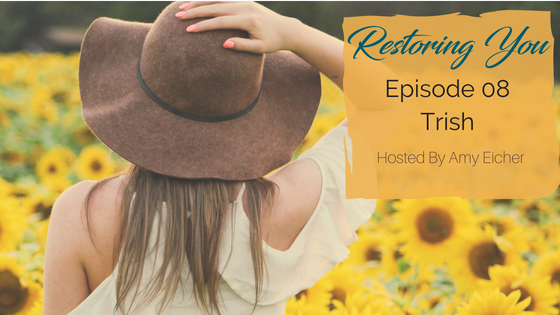 Restoring YOU Ep 08 Trish: SI Joint Fusion
Listen in as Trish shares very candidly about her experience with persisting pain and its effect on every aspect of her life. From the depth of devastation her pain brought. The effects of fear in her life and on her SI Joint Fusion recovery.  And the importance of having a Pelvic Floor Physical Therapist on your team.
SO many excellent nuggets of wisdom in here!
Meet Trish
I am a mother, a lover of Jesus, a runner, and an overachiever. The "overachiever" part is where chronic pain became emotionally crippling but catapulted me into aggressively seeking recovery and ultimately becoming an advocate for other people with chronic health conditions and pain.  I have shared much of my journey through my SI Joint Dysfunction and SI Joint Fusion  recovery over at www.goffdrops.com
My Pain Story
My pain started in early pregnancy around 2013, early 2014.  I was a very active mother to a toddler when my pain became crippling enough that I needed wheelchairs and electric scooters to go shopping or make it through a grocery store. It was a very depressing and dark time. I couldn't run with my son outside.  Carrying him for more than a few feet was unthinkable.
I lived on narcotics around the clock. The joys of motherhood were stolen from me. I was missing out on life.
After multitudes of doctor appointments and failed treatments, fusion finally catapulted me into a new life. And I do say "new" because I wasn't the same old me…although I became pain-free, the hurts and emotional trauma of severe pain changed me, gave me more compassion for others, gave me a mission to encourage others and give them hope.
Hope, hope changed me.  I found hope when I was in a very dark place. Even just a small amount of hope can radically drive a person to keep fighting, keep going, keep on keeping on until answers are found.
I don't want to ever go back to a place of hopelessness again. We can survive and conquer pain.
Life now after SI Joint Surgery
I am completely pain-free since my Si Joint Fusion. My joy has been restored! Running for my pleasure has been restored. Being a fully engaged mother to my very lively son has been given to me anew. It's a second chance at life…I can't take that for granted. And there are still some emotional healing that is happening. I was so inward focused for so long due to my pain that I didn't see the other areas in my life that have needed healing as well…so I'm working on those now.
I'm surrounding myself with healing people, people who inspire me to be a better version of myself. I have a bucket list of things I want to do…skydiving being on this year's list. I refuse to hide from life any longer!
Fight to stay out of fear and find the people who bring you hope and surround yourself with them.
Remember, you're not alone in this. It's possible to find healing from the most severe pain and find restoration. Fear is the biggest hurdle in all of this…it's a sick, insidious virus that seeks to cripple us  more than the pain. Don't let it.
Trish
After listening to this episode if you are in need of a help that understands the pelvic floor, soon there will be a directory of providers at your finger tips. Keep your eyes open for the Global Pelvic Health Alliance coming from The Pelvic Guru