Restoring YOU Ep 09 Bethany: Pain Management, learning to help yourself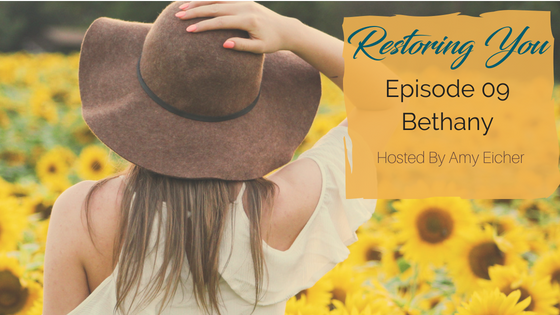 Listen in as Bethany shares her struggle with pain as a newlywed and a new teacher. We chat about lumpy SI belts, the depression that sneaks in when you lose the ability to do the things you love. Just how desperate most people are to simply do "the right thing" to "get fixed".  We chat a bit about the power of social media in connecting to others that know our pain, good and bad. Then she shares how surrounding herself with positivity and learning to believe she is stronger than she thinks changes her pain path.
Scroll down to listen to the episode!

Meet Bethany!
I'm a  35 year old middle school art teacher from Virgina.  I have been teaching for 12 years, and am married to my co-worker who is also an art teacher! We have a four year old daughter and a dog, I think they they are cutest kids in the world!  In my spare time I enjoy painting, crafting, reading, exercising, wine tasting, and movies.
A familiar story
My low back pain started basically out of nowhere during the winter of my third or fourth year teaching.  It became worse during the spring and summer, and by the next school year I was beginning to really struggle to get through the day as a teacher.  
Previous to why pain, I had been an active runner and was also heavily into yoga. I was even considering getting training to be a yoga instructor. As my pain intensified, not only could I not exercise at all, but I could barely move around my classroom enough to do my job.  
The pain made me irritable, and the inability to do what I loved (exercise) made me feel depressed.  I had to wear an SI belt under my clothing which made me feel insecure and lumpy.
This didn't help matters.  The worst feeling of all was fear that I would never be able to have a child.  As I sought out help, and listened to other's stories, it seemed that pregnancy made everyone feel worse and brought on SIJD for them.  I was in my mid 20's, had been married for 3 years, and was beginning to want I child I feared would literally ruin my back.
Many different avenues of pain management were tried…
I saw different doctors and PTs who tried to help me, but left me feeling frustrated and confused.  I was told many different things that made no sense to me. In a  leap of faith I saw a chiropractor.  I had tried one before, who did not help me at all.
For some reason, the care of this other chiropractor was a whole new experience for me.  I felt relief, and was able to move more, and I felt hopeful again. I continued to improve under his care. After a year with him, I decided I was strong enough to carry a child and I became pregnant a few months later.  
I saw my chiropractor through the entire pregnancy and after my daughter was born. I had a natural delivery (no epidural) to make sure I could control everything possible about the delivery so I wouldn't hurt my back more. It was a success!
Pain Management through activity!
Also, since I couldn't run, I tried other forms of exercise like swimming and found it really enjoyable! I hadn't swam laps since high school. It was rejuvenating. I swam through my entire pregnancy to stay strong and that also helped me keep excess weight off through pregnancy.


How did you manage your own pain?
I decided that if something wasn't working, I needed to try something else and not just accept the condition. I had been in PT for almost a year with no improvement. The therapist advised me not to see a chiropractor, but I went anyway.  I returned to PT after seeing the chiropractor.  The PT said I was MORE out of alignment but I FELT better (which was confusing.) That is when I ended PT and continued with chiropractic care. As I felt better, I could exercise more, and I continued to improve.
I still have pain, and my back still "goes out of place", but now I believe that I can feel better again and I know how to care for myself so that I will. I have determined some causes of my condition too (bad posture and leaning forward with my right arm, as I often do when helping my students at work. Much time is spent leaning forward and down to help them at their low tables, but this isn't great for my back. Now I squat down when possible to keep my hips even. I see my chiropractor every 3 weeks for maintenance, but go earlier any time I'm feeling off.
"Now I believe that I can feel better again and I know how to care for myself so that I will."
I am actively moving around all day at work and I don't exercise during the week. However, on the weekend, I exercise both days, usually running (yes, I can run again some days!) or walking 3-4 miles. I wear supportive shoes for work and don't worry as much about the fashion element of shoes. A recent find of  Vionic shoes has been  fabulous for me. Flat shoes or flip flops for me are a think of the past, never to be worn again!
I want you to know
I want others to know that there is still hope and to not give up. Don't let other people's experiences make you fearful. And to listen to your body. Also, positive thinking and surrounding yourself with positive people is helpful. I think depression is both a side effect AND cause for pain. I take a low dose of Lexapro for anxiety and my back feels better when on it. (I've gone off it and the pain increases or is more noticeable when I do).
  – Bethany
Bethany,
Thank you for sharing this peek into your story to lend us hope that we can find things to help us move better and feel better. Your priceless discoveries of your chiropractor, doing something different in the way you move in your classroom and in your exercise, and your commitment to surrounding yourself with positivity and not underestimating the affect our emotions and thoughts have on our pain have  all helped to Restore YOU to a life you clearly love.
SI Belts:
Amy's favorite belt
Another popular belt