When living in pain for days, weeks, months and years.  We often go through medical professionals like tissue.  Sometimes as many professionals as tears we have cried.  They poke, they prod, they draw blood, they take images, they scratch their heads at the pain in our faces and have no answers.  So we move on… to the naturopath, the chiropractor, the DO, the neurosurgeon… we move on and we keep on moving until someone can give us a NAME for our pain.  Once we find that person to NAME our pain… .we stop.  We cling to it like a life line.  This person understands, they "get it" they hear me, they want to HELP ME…  Our hearts are lightened, our burden is now shared.  We are going to get HELP.  Someone knows… someone understands, someone who is educated can help.
Lord knows I have been here.  After going through Doctors and scans as a 19-year-old college kid, on my own managing my own appointments and information, I'm amazed I got anywhere… or maybe it's part of the reason why I look into information like crazy and share everything I can about what I learn along the way…. anyway not my point today.  As soon as I had a reasonable explanation of what was wrong with me and why I was having pain that wasn't, " well, you are having a hard time adjusting to college and don't' really want to swim." ( It's a psychological problem NOT a physiological one.) I CLUNG to it for dear life.  I don't think God himself could have come down from Heaven and spoken directly to me telling me I had something else going on and believed Him.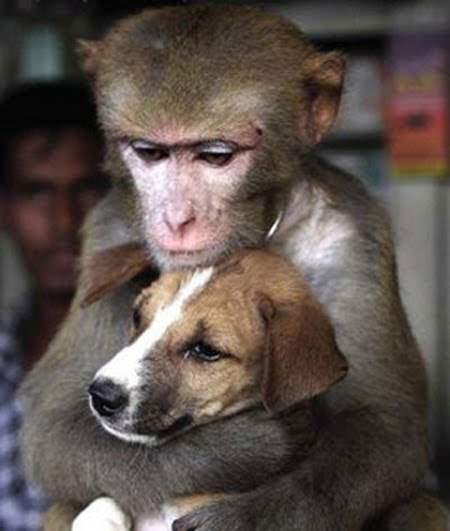 This is DANGEROUS.  HANGING ON TO A DIAGNOSIS IS DANGEROUS for you and your health.  Let me explain why.  See the cute monkey…. sweet right.  What happens when the monkey squeezes too tight….. not so good for the cute little pup right?!
I'm a student now, right…. I hang out in a PT clinic 2 days a week and treat patients.  I have an amazingly cool rotation this semester and have had several experiences in the last year that have solidified my belief that we, as patients, need to hold our diagnosis with an open palm and not a closed fist.  Yesterday taught me a huge lesson.  clinicians have beliefs too!  Yes, they are suppose to be scientific belief's based on research, and experience and time and all kinds of good stuff.  BUT guess what…. even research is BASED on a belief about SOMETHING.  It's called bias in the medical world, but it boils down to there are things we don't know, haven't researched due to time, interests, money or the fact that what is available suits the masses just fine.  Frankly, your clinicians HAS to have a belief system about the body and how it works or they wouldn't be able to TREAT YOU.  They would have no frame-work to noodle out a diagnosis or treatment plan.  From that treatment plan we TRY things…. even Doctors, not just the PT's and the other manual therapists, but the DOCTORS TOO.  From your cold to your unknown chronic pain… and your cold is a lot easier to noodle out than your long-term chronic pain that has altered just about every system in your body.
Why do I say this… because yesterday my beliefs and the beliefs of a very intelligent skilled and compassionate DO met and disagreed.  I had an unfair advantage – I had more information about my situation than she did.  But I wanted to see what would happen with additional information.  The answer didn't change, even though the physics did.  She was teaching me somethings about SI joint testing and we were having a lovely and intelligent conversation and I was keeping up, which always makes me happy and feel like I am learning things on my own.  She showed me how she treats an up-slipped innominate on a co-worker and then I asked if she would asses but NOT treat me.  She agreed.  I had disclosed I had struggled with lots of SI pain over a long period of time and left it at that.  Her findings revealed my right side was dysfunctional but my left side was normal after standing and sitting tests.  She went on to explain my rt side was traveling together and the sacrum was stuck on the ilium… to which I had to agree – they sure as hell are!  But then explained how my LEFT side was rotating and gliding as it should……
So then I said, well that means MY left side is dysfunctional then as I have screws on both sides bolting me together.  The innominate SHOULD travel with the sacrum as they are one unit… so the side that is moving normally has no business moving at all!  I asked her what she thought of that. She began to explain why she believed her findings were correct.  The pelvis is a complicated place and I honestly understand why it is so hard to move with new information, and if I spoke to her this morning she might have a different take on it… but in the moment… trying to explain something she had never seen or experienced she went with what she knew….. We all do…. patients, Dr's, and everyone else in between.  We take the information we have gathered and apply it the best we can to the situation in front of us to give a diagnosis and explanation for why you hurt and how we will help.  From the parent answering the precocious toddler to the Worlds leading neurosurgeon explaining something to a patient.  We only know what we know.
Before you ask : no, I don't think there is ANYTHING wrong with me or my surgery.  Mt PT has done extensive testing for movement of my sacrum and has done repeated pain provocation tests and the results are the no movement, nothings happening and I also have zero symptoms.  Nothing is going on that hurts or causes me to wonder what's up.  The tests she preformed have poor reliability according to research and the tests my PT does have far higher accuracy in determining SI pain.
Why does this matter?  Why am I going on about this?
Because – many of us are walking into a surgery based on a belief  we or our surgeons hold that, in many cases, has NOT been put to the test.  We cling to the need for answers and assumption we have found someone who knows because they call themselves and expert, or they sound like they understand.  And they may.  They may understand very well and they may very well be right.  BUT What if they aren't.   What if your PT is wrong and your SI joint really doesn't really "go out".  What if your PT is wrong and it's NOT muscular?  What if…. What if it's not your SI joint at all and it's your hip?  I am amazed at how similar my symptoms were between my recent bout with hip pain vs SI pain.  As the injury started to heal it was much more evident it was my hip, but at various points I couldn't tell which hurt… and ya know what…. ALL medical folks depend A LOT on what we tell them to decide how they will being treatment.  The information we give is VERY important in the diagnostic process… and medical professionals don't really understand how much we chronic pain patients limit the information we give for fear of so many things.  We help to bias our diagnosis and we don't' even know we are doing it.
Consider how this information can help you help yourself.