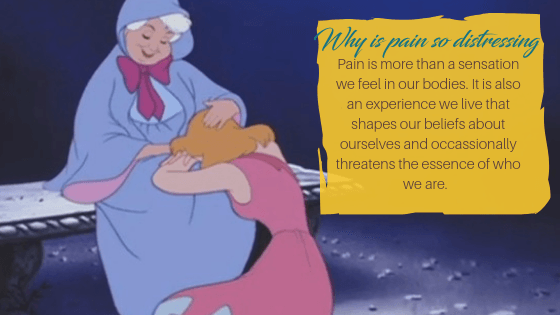 Why is pain so distressing?
Pain is such a personal experience. Often strange, seemingly unpredictable, hard to explain, and even harder to communicate to someone else what is being experienced. You know what else seems to be hard? Communicating facts and experiences about pain as a provider. Seems like it should be pretty straight forward, right? Yeah well, I was reminded this week again how much misinformation there is out in the world about what pain is and what it isn't, and just how distressing pain can be.


Pain is distressing when we aren't heard.
I found myself at yet another frustrating MD visit. I get so tired of the frustrating ones. I know I still have a bad taste in my mouth from all the years of pain and not being heard. I have tired to take those lessons and come with a clear history and include the information I need to feel safe, as well as my goal for the visit and desired outcome, especially when I am nervous about appointments. Even though I knew exactly why I was at this appointment, I found once I got there, no one really asked me anything about what I was feeling, what I needed as the patient, or what my desired out come would be. I sat in the office during the information taking process and thought to myself – they haven't asked a single question that isn't related to my tissue. How can that be? I knew I needed more than what I was being given and began to interrupt. I was told to wait. WAIT… I'm the patient! I'm the one in distress. You wait and listen to me. Ask me what I need, or at least let me tell you in my own words, please.

I was eventually allowed to explain the reason for this visit was I had a cyst. A cyst causing me intense pain. It was one of those Dr. Pimple Popper types and it was a um, private and sensitive location. The pain caused by this cyst was enough to derail my poor brain. Try as I might to keep my fear under control, I found the experience of pain was threatening my person! A cyst on the vajayjay is not fun, just saying. If you can avoid, please do. This sucker was creating distress of epic proportions.

I had experienced a cyst before. It was on my cheek, and got really big, exploded in a disgusting way and then I had the sack removed and nothing more happened. It was really uneventful.Based on this experience I decided this pain was not anything nefarious, but an appt with my dermatologist to have it drained might be the best thing I could do for my peace of mind and pain levels. I just wanted to know why it was there, if they could drain it, and if it would come back. Seemed easy enough right? I felt like I had to fight to be heard, which only increased my stress and anxiety! Why is it so hard to listen? They were all busy moving about the room as they took notes. I did finally get the answer to why does it happen… Apparently they " just happen", so there's that. It was as if they were so concerned about what they needed to do that they forgot I was the one they were doing it for.


Pain is distressing because of unknowns.
I admit. I like a fair bit of control in my life. I am able to sway from the branches when I need to, but basic routine helps me function best. They were able to get me in and I only had flashes of thoughts like," What if they can't help me!" Logically I knew that was silly, but I was starting to have catastrophic thoughts about what happened if this pain become chronic, how would I ever deal with that? I couldn't wear clothing, standing hurt, walking hurt. It was like someone was sending shocks into my private bits when I moved. As I lay in bed reminding myself to breath and calm my nervous system I started to think about the life I had rebuilt and the abject horror of having that dismantled because of pain again.
Spending a day and a half in bed in pain invited memories from my decades of pain to the surface again. I was reminded of how unpredictable my chronic pain was and how I never knew if I was going to be able to keep my plans, or get to the school to volunteer. I eventually felt like my pain was controlling my life. I didn't want something else to be in control of me or my time. Yet my pain had taken on a life of it's own back then. I felt like I was a servant to it or a prison of it.
I'm not sure anyone thrives on unpredictability and pain can certainly be unpredictable. Learning to manage and care for myself was a huge help in lowering my distress as I was on my journey out of chronic pain, and it helped again with this episode of acute pain. Being informed helped me to make better choices and recognize when my thoughts were running away and into dark places. I was able to reach out to friends that could help calm me. I was able to advocate for myself in making an appointment, I was able to give myself a few days off to care for myself. I think most importantly, I tried not to lay blame of judge my experience. It was something I was going through that would end eventually, and it did.
Pain is distressing because it is more than just a sensation.
It wasn't the pain it's self that was that distressing in this experience or my experience with chronic pain, it was the threat to my life, sense of purpose, meaning, and self-identity. Sure, the actual sensation of pain was really not fun, but what made it worse was all the things that could fail to happen because of it. Laying in bed I was reminded, pain is not just a sensation. It is an experience, a whole body and mind experience. Which is why I think we hate the question, " what's your pain on a scale of 0-10." For better ways to talk about your pain with providers, check out this blog post. I wanted to say this pain is an 8! I am super worried about it and you not being able to help me and the pain sticking around. So my 8 means I really need you to help me calm down!

So often our providers and our society boil down pain to an indicator of how our tissues are behaving. We think in terms of out of alignment, torn, slipped, broken, sprained, torsions, blocked, deranged, degenerating, arthritis. We hear these words and often associate them with chronic and continued pain that can't be changed.

That's only part of it. With each increase in my anxiety over what was going to happen to me, my body reacts with hormones. Hormones meant to help me. Fight or flight or freeze. But this heightens my nervous system and now it's on the lookout for anything that might even be remotely dangerous. You know, like my underwear touching my skin. Threatening right? Well not really, but all my systems were on high alert, so things that normally wouldn't hurt, like my underwear, did. The medical term for that is allodynia and means a painful response to a normally safe stimulus. Fun stuff huh?
Never forget there are a wide range of biological happenings when we experience pain. It's just that those findings on the imaging may not actually be the part that is driving the experience of pain. There are changes in the brain, the endocrine system, the nervous system, sleep cycles, on and on and on. So is the pain emotional, yes and no! We are complex interwoven beings. We can't have emotions without chemical affects. We can't have thoughts without them affecting our behaviors which also affects our biology. With that in mind, consider that your tissue issue is so much more than "just" a cyst, or muscle imbalance, or arthritis.
Pain is distressing because it is a threat to our sense of self

After wandering through my own head and thinking about my experience with this round of pain, I really started to contemplate the medical definition again. The current definition states that pain is emotional as well as a felt experience with or without actual tissue damage, but I just don't think that's complete enough. What do you think?
I'd like to invite you to consider the definition of pain and some facts about what it really is and isn't. The IASP defines pain as:
"An unpleasant sensory and emotional experience associated with actual or POTENTIAL tissue damage, or described in terms of such damage."
Recently they proposed the definition be reconsidered to the following:
"Pain is a mutually recognizable somatic experience that reflects a person's apprehension of threat to their bodily or existential integrity"
I readily admit my bias that I think the proposed definition is much more accurate. Threat to my existential integrity, that is exactly what that darn cyst was! In my mind it was going to take the essence of me away! In later posts we can talk about all the chemical signatures that come with stress and fear that feed into our unconscious brains decision to alert our bodies of danger with pain, but for now, realize I felt threatened by this situation. The life and person I had rebuilt was in danger of not being who I was.

Think about that for a minute. Is it really the actual sensation of pain in your body that is so bloody distressing? Or is it the meaning that pain has on who you are? When your pain keeps you from your family, your job, the workout you love, your friends, what kinds of threats are those to your identity? To your sense of self? To your ability to provide? The sensation is one part of pain, but the unique meaning and experience of that sensation is another.
If you knew you were going to be ok and the pain would stop, how would that change your relationship to the pain?

If you knew you could keep doing the things you loved and you wouldn't pay for it every time, how would that change your relationship with pain?
If you knew you were still the best mom, dad, brother, sister, employee, athlete you could be, how would that change your relationship with pain?

Pain is there to remind us to pay attention. Pain occurs to motivate behaviour change. Pain is about protection, not damage. Damage may be present when pain occurs, but it doesn't have to be. I think so much of our distress comes from not knowing what is going to happen. From the instability of how this pain will affect our futures, our hopes, dreams and plans.

Pain is distressing, there is no doubt about that. I was thankful my current bout with pain was easily remedied with some pimple popping and antibiotics… and a "small procedure" in a few days. Honestly, seeing the Doctor, getting myself help, and answers, and knowing what I needed to do helped lower my distress. The pain was still intense. However, I was able to get underwear on again and move more once I was reassured nothing horrible was happening, nor was this going to last forever.

As you contemplate your own pain story, I would invite you to journal about how your pain is affecting you, the person. What kinds of threats does this sensation and experience pose to your person? How will you being to address those threats?

If you need someone to talk to please join my free facebook group for Chronic Pain or book a consult with me, I'm always happy to help.