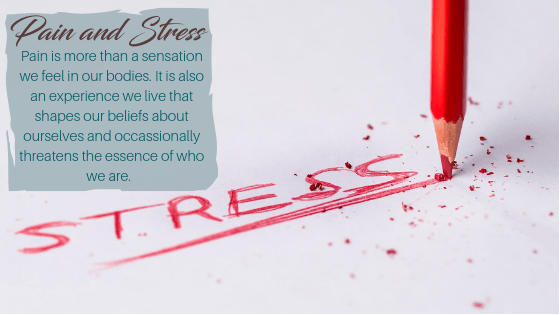 Why you should reconsider stress as a factor in your chronic pain
Stress and Chronic pain
We've all heard it before. You go to the doctor to discuss your pain and after all the scans come back with nothing abnormal and then they suggest you are depressed or have anxiety and should medicate it. Maybe the findings make you feel like it's all in your head, like you are making up reasons to hurt because they can't see anything that should be causing this level of pain. Suggestions are made by well meaning providers that maybe you need to handle some of the stress in your life. A fire starts to burn in your belly as you think to yourself: damn it I'm in pain and have lost most of what makes me ME. Depression isn't my problem, my pain is. Fix my pain and that will fix my mood!
I know the reality of this exchange.  I've been on both sides of it. As the one in pain and as the provider. When I was in pain and was given a script for depression meds I just about lost my mind. I never filled it. I was so wildy upset at the implication that the pain was made up, that I was just a sad little woman who was a stay at home mom, that a pill would solve these years of pain. Oh it made me crazy!  Like really crazy. Couldn't this Doctor see it wasn't my STRESS it was my PAIN that was the problem?  How dare he suggest that my pain would simply improve if I just took some depression meds and talked with someone.  Even worse why was he no longer looking for the reason for my pain. There had to be something they were missing. Didn't there. The not knowing and not having answers was very distressing.
I really wish that Doctor had explained to me WHY this might have been a very helpful tool to break into my excruciating pain cycle and why this treatment was being offered instead of just letting me fill in the blanks by myself.  I'll never know why that Doc prescribed the meds, but I know now why it isn't as crazy of a thought as it may have seemed initially.
If these feelings are familiar to you, keep reading. Maybe I can make some sense of the why.

When I started to educate myself after I had my pain under control I was surprised at the amount of research that had been done on chronic pain and chronic stress. There has been an enormous amount of studies done looking at the brain and stress and the brain and pain and all the cool chemical stuff that happens to our bodies and our nervous systems and the effects that those chemicals and signals have on our bodies and our pain.   One of the things that fascinates me most was all those symptoms and events I thought were me being crazy, actually had chemical reasons, all relating to my pain and my stress about my pain and how my life has changed. My hope is to show you why learning to manage our stress helps our pain levels. ( Between you and me after I started reading this stuff without pain fog brain, I really wish I had taken those meds and seen if it could have helped me!)
The first thing we need to understand is chronic pain is not just about tissue issues. I know, it sounds insane but it really isn't.  Pain is more likely a way to protect us than it is an indicator of tissue damage. I mean, think about it – tissue heals, so why would we still be having mounting and continuingly disabling pain if tissue were the only factor?  We wouldn't.  All those interventions: injections, PT, chiropractic care, medicine, stretching, core exercises and all the lotions and potions would have healed us if pain were just tissue. The scans come back without anything remarkable for a reason, the tissues are healed and we are dealing with a chronic pain problem, not a chronic tissue or body brokenness problem.  

Having trouble wrapping your head around that?  Yeah… I did too. It's ok to struggle with it. Took me years to really come around to thinking my pain wasn't weakness or muscle imbalance or my posture or my pelvis. I wrote about my own journey in a memoir that you can get here. Over the next few months I'll be writing about all those things I thought caused my pain that didn't and how I had my brain broken and eventually got to thinking the way I am at now.  Should be fun, so check back each week.

I digress, you may be wondering why your primary care provider or some other medical provider didn't just tell you about chronic pain. The answer is because while the evidence is over 20 years old, it takes awhile to get out there. ( Which causes me stress!) Studies have been done like this one showing the gap our PCP's have in treating Chronic pain. Medicine is moving forward, just slowly. So, if your medical professional has never suggested these ideas watch this video for a taste of how we currently understand pain as a danger signal, and consider why stress might affect that.
Here is one of my favorite videos where Lorimer Mosley explain the intricacies of pain. Give it a watch and then come on back. I'll wait.
<iframe width="560″ height="315″ src="https://www.youtube.com/embed/gwd-wLdIHjs" frameborder="0″ allow="accelerometer; autoplay; encrypted-media; gyroscope; picture-in-picture" allowfullscreen></iframe>
Pain is more involved than just tissue. It's context, memory, threat, fear, assurance, past experience,stress and so much more!  Amazing isn't it. But when you think about it, it starts to become clear why nothing has "worked" to get rid of or fix your pain doesn't it?  The focus has been on one small part: the tissue. Crazy right.

Here are a few papers that show us people reported more pain when they were under psychological distress (stress to you and me.)
https://www.ncbi.nlm.nih.gov/pmc/articles/PMC1446853/
From India: "Results indicated that the following factors were associated with LBP in young adults: marital status, previous history of spine problems, strenuous exercise, job satisfaction, monotony, stress, daily number of studying hours, and family history of spine problems."
Of interest to many of you show that the following were not associated with pain.
"…age, sex, smoking, alcoholism, coffee intake, mode and duration of travel, diet, frequency of weightlifting, wearing heels, studying posture, and frequency and type of sports activities were not associated with LBP."
https://www.ncbi.nlm.nih.gov/pmc/articles/PMC5573856/
And a similar paper out of the UK
Fascinating facts about what is most likely to be a factor in pain
Interesting isn't it.  Stress, studying and job satisfaction were associated with pain, but diet, heels, exercise, and posture were not.  Throws what most of our medical professionals are telling us into question doesn't it. What I like most about the results of these studies is that it explains to me why doing my exercises just right, and wearing the right shoes, and changing my coffee intake and my sitting standing and sleeping posture didn't change a darn thing.  I still hurt. A lot.
I thought I was doing it wrong. I must have failed somehow to get these things right. I hadn't found the magical mattress of shoes, or perfected the neutral position of my pelvis to keep me out of pain.  I felt like a failure and incredibly broken because I couldn't achieve the pain-free state I was told these interventions would bring.

What did happen was I became hypervigilant about how I stood and how I held my pelvis, weather or not my right glute was turning on, if my shoes were right…. I had so much stress about the fact the things I was trying to fix that it increased my pain!  THe very thing that was supposed to be helping me ended up being part of what hurt me.

However, no one was helping me explore the things on that list that ARE associated with low back pain, which SI Joint pain is part of).  My marriage was failing and I couldn't admit it to anyone. I wasn't working and I missed having a purpose, so my satisfaction at my job was negative!  I called myself an unfit mom to my 2 beautiful children. I wasn't moving because most movements hurt. I was stuck in a cycle of shame, guilt, and fear that was creating a chemical cascade helping keep my body sensitive to… well… everything!  THe pain wasn't made up, it was supported by my thoughts, beliefs, attitudes, lack of movement, and nervous system sensitivity. So, if that's " in your head" than yeah… my pain was in my head and I felt it in my rump and down my thigh! Consider though, my scans were clean – there was no tissue DAMAGE to be found. But there WAS a lot of pain and stress.
What does this mean for you? The individual reading this.  If your stress and your job satisfaction are more likely contributing to your pain than your posture or your heels, how does that change your understanding of why you hurt?  Join us over here on my facebook support group to talk about it.
Check back next week for part 2 on the science of stress and pain.