34 weeks 1 day
Traveling… again…
yesterday I was pretty easy to tire out at PT. That bothers me and makes me feel really weak. I don't like it. It's not that I can't DO the given exercise… it's sloppy, or not.. well… it's not smooth – it's staccato like… not at ALL like a pretty ballerina… much more choppy. I don't know that I would describe it as a pain or even weakness.. more like my muscles just aren't moving right… like they are still trying to figure things out. Sometimes they feel tired, sometimes tight, sometimes just confused… like they really aren't sure what to do! Sometimes they even burn when I start moving in an end of range motion where they just aren't as strong… – as soon a I stop moving then the burning stops, but I still really don't like the way that feels, and after that it usually feels "wrong", knotted, or bulky and boggy…. I'm not a big fan of any of those words really! The net affect is caution.. being more careful and guarded… not pushing or doing things that are no longer impossible, but tend to wear me out… like vacuuming. I'm just not going to chose to do that on a day when I feel like I described above… I'll just wait until tomorrow… or pay the kids to do it if it bothers me THAT much!
The take away from PT yesterday was the answer to my question," How bad is it?" because it sorta feels like before surgery, but now there is only 1 muscle screaming and not like 50… but that muscle that screams tends to be attached to my sacrum… and well… i really get edgy when that hurts! It's not even in the same star system as the old pain… the monster pain… now it's just baby pain ( as my PT has termed this new pain experience… and he's right) BUT it's still pain.. and while tolerable… it can scare me at times and I don't care for that at all.
Anyway… it was quiet a week… and my PT observed that i looked tired, maybe even a little worn out, and I guess I really am… not a physical tired, but like a bone weary soul tired, it would seem that the average person's body responds to : Illness, anxiety, stress, travel, hormone changes, ect.. by breaking down a little… so seeing as all those things are going on in my life right now it really shouldn't be a huge surprise that I'm feeling a little weaker than normal. I'm just going to take great comfort in that and try to move on. It's not part of the normal 2 steps forward one step back dance ( just for you Rachel!) It's just normal reaction to life's stressors. I mean obviously in a balanced body they wouldn't feel the affects QUIET this much but it isn't this feeling of totally falling apart. Though it makes me wonder if I can handle this life that I have carved out for myself… or if it's just a rough week. So that conversation plus a good solid soft tissue work on the mountain.. well I'm told it's a molehill now, but that knot that lives near my sacrum… well I feel amazingly well here at the airport in Chicago waiting on my flight to Atlanta.
This is the second time I've headed to GA without really having any idea what is going to happen once I get there. The first was my week that I spent with Melany and it was amazing in ways that I never did find words for. During that visit Vicki invited me to take her course on the SI joint and treatment. I could hardly say no! SO now I wait for my plane to take me on another adventure and I have no idea were it will lead of what I will learn. The idea of being the only nonprofessional in the room is a LOT intimidating to me. Typical first day of school fears, will I be accepted, will anyone talk to me… will I offend the PT's and PTA's that are there will I understand anything? Will I be able to keep up? What if these people are just taking this class to check a box… how will I respond…. I just pray that helpful stuff comes out of my mouth and nothing stupid!!!!!! Ugh, I feel the panic rising again as I think about it… Thank GOD I am also seeing SI friends while I am there!
34 weeks 2 days
I had an amazing time on Fri with my dear friend Katherine…. It was so wonderful to have a meal with her after the crazy flight delays and being in a strange city! Thank God for GPS is all I can say! We had a delightful time and talked until we could no longer sit 🙂 It was much to short, but a real treat and the perfect end to my day. Plus… can you really go wrong at the cheesecake factory? YUMMY Tiramisu cheese cake , so good!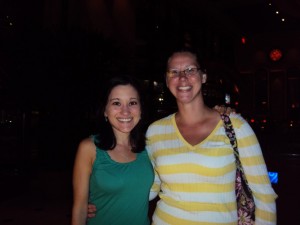 THEN after a great full day of class I got the opportunity to visit with Roos in Gainesville. Roos is an amazing woman, and if you want to hear a story of flight, compassion, and determination… you should read hers. I'll let her share that with you, but I DO want you all to know that in the early months of my recovery she was always so supportive of me and had an encouraging word even though she was half way across the world. Those fearful early days before surgery and the weeks after really pulled me through. So it was a pure delight to talk with her and be able to support her as well in her early days of healing. When we saw each other I was gifted my incredible one of a kind Rosita's snuggle shawl… it is in my very favorite color blue and it is soft as I imagine clouds feel… I love it and will ALWAYS treasure it… Thank you dear friend for an amazing visit that I will never forget.
There is something of real power when people that understand each other get together… real life and real relationships happen. It is always a wonder and like a shinning gem to me… thank you both for those real life moments where life isn't always pretty and clean but it sure is real! You made this trip extra special, both of you!
34 weeks 3 days
It's September 11th and I haven't even had a moment to reflect on that other than I did not want to fly home today and will fly out tomorrow…. but after 2 days of intense time in an SI class with PT's and PTA's I kinda wanna share what I learned or have processed so far… and it's not really what I expected….
Evolution of an understanding:
I spent 2 days with professionals who treat us… trying to learn more about this joint that causes us pain. I want to start by saying thank you to them for how open and welcoming they were to me and to teaching me, to listening to me, and allowing me to learn along side them. It was a real true and deep pleasure to have had this experience this weekend. I was so grateful for the many men and women that stopped to ask me questions, and was more than happy to answer to the best of my ability.
There was A LOT of information presented in many different ways… as I listened and watched and tried to manipulate and grasp the many ways of seeing the SI joint it became very aware to me why MANY are afraid of it, and consider it… mystical. I am not sure how to best communicate what I experienced in that room that is fair to the many professionals that were there… so if you are a professional please know that I have deep respect for the work each of you do and the amount of knowledge you all have. This is merely my outsiders perspective of a weekend one shot class….
What many of the patients have learned about the Si joint and it's possible dysfunctions and corrections is really a simplified version of the MANY possible treatment options. My take away from this weekend to share with patients is… there are MANY MANY ways to correct hip bones (innominates) sacrums and pubic symphasis, there are many variety's of tests that can be used to spot dysfunction, and no matter what tests are used – the best assessment is done with movement tests, positional tests, and provocation tests if necessary. The tests work together to point out possible dysfunctions and HAVE to be used together to come to a realistic conclusion… and as long as your therapist knows HOW you are dysfunctional… it really doesn't matter what they call it as long as they can fix it!
The key to FULL treatment was looking at both right and left innominates, as well as front and back, sacrum, PS, and checking for issues in Lumbar spine, hip, leg length, muscles and ligaments… All of these things paint a full picture of what is happening functionally and positionally inside the patient.
They taught multiple ways to treat multiple dysfunctions… they KEY is making sure that you are correcting them all… if you have an upslip on the right with an inflare and anterior rotation… if your PT likes to deal with inflare out flare with one technique… that's wonderful! They just also need to correct you for the anterior rotation and the upslip too! If you aren't sure how or why your PT is aligning you ASK!!!!!!!!!!!!!
You should KNOW your OWN rotations and be able to correct them… ask your provider to show you… you may learn something new, I know I did!
I have to say that I appreciate the way that Vicki teaches patients to deal with our dysfunction… it is a simplified model of a bunch of things that make it easy for us to share information and treat ourselves and loved ones… but as was shown today there are MANY ways to effectively treat a patient as long as you get it all!
When we went into the sacrum and how it moves and how it can be dysfunctional on several axis…. I thought my head was going to explode… and I am pretty sure I am not the only one struggling with nutation, counter nutation… and rotation… see my eyes are glazing over again thinking about it.. and THAT is SUPER important to understand and identify IF your PT is using a muscle energy technique to move your sacrum back into place… BUT it's not the only way… again Vicki simplified all that to 2 directions… and 1 correction that goes counter clock wise or clockwise… for me… I can remember that and understand it… BUT I came at all this information back ward… I was educated in SI and then the knowledge has grown… these people there knowledge starts far broader and more encompassing and then gets more specific…
All I am saying is I can totally understand why after school some people just say, I don't get it… it's crazy magic insane stuff and I think I'm going to focus on other issues… FAIR… TOTALLY FAIR… that's all I am saying 🙂
So… the next time you want to scream at your PT for not understanding… just try to remember that it might not be a LACK of understanding… it might be TOO MUCH to sort through… go easy, have compassion.. and if they are TRYING to help you… give credit and ask if you can HELP them help you.
There were many men and women in this group with deep compassion for their patients and wanting to understand more to help more… we just need more folks like them, that's all!
Now… I really need to go study for that exam on Tuesday!
But here are some parting shots from how I found my rental car after class today… apparently the ticket was suppose to be IN the window!
34 weeks 4 days
It's 8:22 am… I've been up since 4 am and I sitting at O'Hare waiting for my connecting flight home. I had some very very long days these last few days, and today will be no exception to that. So this morning in Atlanta I grabbed my favorite drink from Starbucks… ahhh white mocha I love you, thanks for helping me get my day going this morning!
I have some transient pain today… a little down the out side of the glutes while sitting… If I arch my back it disappears, but I'm so tired that proper posture is really a struggle. Rolling my bag behind me is… uncomfortable today, it's not painful, but I feel like I am really challenging abdominal muscles on the other side of the hand carrying my bag. I am very thankful I worse sensible shoes! I am sure if I didn't have good support my pain would be greater. I am REALLY looking forward to a nap in my own bed once I get home… assuming I can get my mind to stop racing between the information I took in this weekend, and the information I have been studying for that test tomorrow. I am actually thankful for the plane ride – I have a much much smaller stack of "what was that again" flash cards now than I did before I left! Too bad I won't be tested on assessing low back pain tomorrow!
35 weeks
Phew! It's been a long week full of wonderful changes and challenges. I think one of the things I realized this week is STRESS without a doubt affects my pain. When my emotions run right, when I am stressed, anxious, or worried, my pain is higher… my muscles tighter… dislike! But it does go to show that the emotional part to our beings plays a part in how we feel… and I think I dislike that!
I managed to take my first exam at school on Tuesday… I think I was awake taking it 😉 It was hard to tell… there were A LOT of flashcards, and papers. I figured if I followed the study guide we were given and knew it front to back and upside down I would be ok… oops… not that teacher! I got the teacher that thinks minutia is a good thing to question on and give you the info in one direction a zillion times, but then asks the test question in the negative of that…. and when your reading thought the test really fast to make sure you finish… welll you shouldn't! I got some wrong just because I didn't read carefully and I hate that… But I did about as I expected, so I'm going with that today!
In PT we kicked things up again. I am sore today… less sore than any other time I have used that word to describe things 😉 It's not more pain.. but it makes me want to be still when I don't have things I have to be doing. I am afraid that life can overdo it for my body still. I am not sure if that is the best way to handle what I am feeling or not. It seems my reaction to any muscle discomfort at this point is to stop drop and rest. It's just that's harder and it feels more isolating than ever. The kick back of resting emotionally is .. well.. weird right now. I think it's because monday-tuesday I go go go go go then wed I am sitting/laying studying all day…. the contrast screws with my head a little…. Am I laying because I have to? Or am I laying because that is the way I have ALWAYS studied and I have a LOT of studying to do on Wednesday? Not sure I have an answer to that, but it's something I've noticed….
This morning was a cool morning and as the kids were getting ready to take off for school Erin grabbed her Rosita's snuggle shawl – and wore it with great pride to school… I just had to share her pic today… once I get it uploaded:D TOO Cute!
35 weeks 1 day
I love the quiet of the house in the morning right after the kids have gone off to school… it's so peaceful. It's nice just to be able to sit and breath a little. I can't believe how fast paced life has gotten and how hard it can be to get everything done in a day. The poor house has been neglected, and it's hard to be motivated to do anything about it. That has nothing to do with pain, that's just laziness 😉 . My cleaning crew will have their last visit next week and then we are back to being all on our own. Even though I am capable of cleaning the house at this point I don't think that is something I am going to take off my children's plates. My husband and I have been talking about that as the months have moved on and my ability levels have gotten better… but in the end we think that it's important that they help keep the house. I am glad for this because now it's not a matter of can I can't I… its a matter of time. How much do I have and what gets done! I'm sure they will be thrilled to hear the cleaning ladies are done… NOT 😉
So yesterday at PT we started with some mobilizations of my hips… VERY passive process for me… I just laid there and asked questions while my PT moved my leg around. He said that the posterior ( or back) part of my hip capsule was tight due to all the muscle compensation that is still going on and limiting my range of motion and also upping my pain. I don't really have a deep understanding of mobilizations, I pretty much just get that the PT is trying to restore normal motion through gliding the joint for the patient. It was an interesting sensation… I really didn't feel much at all… a few positions felt like MUCH needed stretches in places I didn't know where tight and can't really describe… but it felt like he found places that were "stuck" and when I got up to do the strength training I felt fantastic! It was much easier to move than it has been the last few days. I knew I was tight, but it was more an all over feel nothing specific that I can mention… anyway glad he did it and still feel really good this morning.
We continue to make things more challenging in PT and I feel like we rarely do anything twice from week to week… like it's constantly evolving and changing and adapting. He's really trying to zero in on things that use the end range of my muscle fibers… the parts where weakness still lurks. It is so good and so frustrating at the same time. Most of my time is spent moving in some way… very little of the stuff we do now is table work.. it's all weight bearing and moving, and usually with resistance or weights… the weights are new this week.. and GOOD.
I was starting to think that my body was really darn near close to even.. and it may be… but put those weights in my hand and have me bend and BAM old patterns of muscle recruitment… the first one I did I was like – YOUR KIDDING ME RIGHT… he laughed and wanted to know what I felt… I explained and he said… yeah that's what I saw too… that's why you have weights… your going to have to LIFT things someday… so here's where we start.
Other things that are far far more challenging that I could have ever done before still bring out that.. .hey… I can't make that limb DO what your asking…. I haven't responded well to that feeling this week… I really thought that feeling of brain to body being disconnected was gone… guess not… seems there are still ways in which they don't want to connect. At one point it felt like such failure to me I had to stop and ask… "Am I going backward? Am I getting weaker?" Sometimes the changes he makes are so subtle I can't tell that I am doing something different and harder than the week before. I'm sure everyone that's reading knows that I was met with encouragement and assurance that I was NOT getting weaker, he was just making things harder. So once again I decided trust was the option I was going to go with. I will trust that he knows better than I do and trust that this feeling of weakness and inability will soon melt away and on the other side I will feel stronger than ever. That's the way it's worked so far, right!