Wow.  Wow.
I hardly know where to start.
I promised I would keep you posted on how things were going with me concerning this surgery and my recovery.  I find myself staring at my 2 year surgical anniversary and being kinda speechless at where my life is today. I have overcome so much, I am in such a different place physically, mentally, emotionally, as a parent, as a person.  My entire life has literally changed in the last two years.  It's amazing, and I never ever ever would have thought it would land me here.
Tomorrow I start my first round of clinical as a Physical Therapist Assistant. I will be a therapist, in a hospital helping people who have just had surgeries to get up and walk.
I pause here – heavily.  ME helping patients in the hospital just TWO YEARS after I was laying there being roused from my post surgical hospital bed from this little woman and her pastel gait belt.  Never in a million years would I have believed you if you had told me this is where I would be.  I wouldn't have believed it.  Deep down, I wasn't sure I would ever be able to do any of the things I loved again, much less find new ones.  I figured I'd be fighting forever, I felt like I already had been, so how could that ever change?  Day by Day, exercise by exercise, positive thought by positive thought, and heaps and heaps and heaps of support from both my friends here and my "virtual" friends.  I could not have gotten here without either group.   Since before surgery I have been a part of an online community, giving support, seeking out answers, sharing experiences, and literally "doing life" together from our lap tops, many of us in bed.  Having the support of others that knew what I was going through was priceless, irreplaceable, and many of these people have become people i would give my right arm for.  We continue to encourage each other into our futures and through our fears.  If you don't have a support group of some kind where you are understood, I strongly encourage you to find one.  Their value is irreplaceable.
But the pressing question as always is how AM I physically… so let me try to answer that.
Let's start with a summary.  Because I don't journal every day it's hard to keep track of the gains, but I know they have been there.  They are subtle, and most of them come from me no longer giving in to fear.  The Chronicness of my condition held and holds me back a lot in my mind.  I decide to push through, to reach out for help, to announce I am afraid so someone else knows and can coax me through.  I trust more people to do that now than ever before.  The emotional journey for me has been constant.  I keep pushing my limits and trying.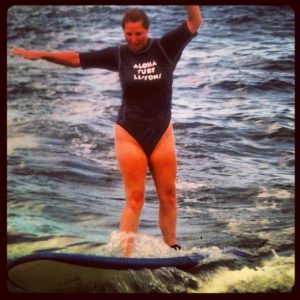 This past summer my family and I traveled to Hawaii.  I was afraid of what might happen after the flight – I'd never been able to handle a flight that long but I wasn't going to let fear stop me.  I went, it was fine.. I was stiff, but so was everyone else on the flight.  I walked everywhere, the lilt of the boat on the ocean was unnoticeable to me, even more so than 8 months prior on the celebratory cruise I took for our 1 year anniversary.  We went scuba diving, I did both dives, we went snorkeling, I didn't want to come in to be done, my daughter and I went SURFING – I was fine. Then in September I took all that hard training in the pool and swam the swim leg of a Triatholon and came in FIRST in my age group and FOURTH over all the hundreds of women that did it…. It was my FIRST open water swim ever…. AMAZING! I am in the physical therapist assistant program, I sit though 4 hours of class and a 45 min car ride in both directions.  I sleep like the dead, study, attempt to keep my house clean… dishes, laundry, up and down the stairs…. all these things are fine and normal.
I am not without pain all the time.  I so wished I would be able to say that at this update, but I can't.  I am resigned that i never will, BUT there isn't anything in my life that I WANT to do that I can't.  The pain I have is predictable and reproducible.  I get pain along my sacrum, deep in the hip and a deep bone pain in the pubic symphasis if I lift things over my weight limit of 50 lbs.  Why am I lifting things that heavy you ask… good question 🙂  My PTA program… sometimes we have skills that require transferring people from wheelchairs and if I have to do a deep squat and lift, ouch.  I go home I take anti-inflammatory, I ice, I rest and tape, and as soon as the lifting portions of class are done, the pain goes away.
The other time things get a little wonky are around my menstrual cycle – if I sit at lot plus cycle = pain… so when the kids weekend swim meets fall at the "right" time of the month I get some hip stiffness.
Is it terrible?  No, it's not.  Does it all go away with simple intervention.  Yes it does.  Does it annoy the crap out of me and gnaw at my soul… yes!  I haven't checked in with my PT in well over a year and I promised myself that if things continue like this in this coming semester with school I will make an appointment, but I had to deal with another issue first; other Dr's appointments I have been putting off… for YEARS.
I have not seen any medical professionals other than my primary care or my physical therapist since surgery.  I have in irrational fear of simply going.  I know I need to, but I would break out in a sweat and feel ill every time I picked up the phone to make my OBGYN appointment.  I would think I need to see the eye dr… but I shouldn't spend more money on medical for me….. oh yeah… these are the thoughts of a sane person…. After more than 2 years of putting these things off I finally asked a friend to hold me accountable to making these appointments and following though.
I saw the eye dr – apparently my prescription has changed AND I need bifocals…. but I could see so much better though the lens in the office that I was excited and didn't care that I am 38 and need "old people glasses".
OBGYN appt – that was not as fun.  I made it, but I started crying in the car.  Why?  I have no idea, but my anxiety was really high and I knew it.  When we reviewed my list of medications, I was overwhelmed.  HOLY CRAP was I on a lot of medications back then.  I don't think I ever realized it… I mean I needed them, but good gosh! As she ran down this list I kept saying no, no, no,no, no, no, no, and the tears came.  I had lost track of how far I had come.  I was left on 1 medication…. just my thyroid meds.  No pain meds, no muscle relaxants, no antiinflamatories, no female hormones, no vitamins…. just a single thyroid medication.  All other aspects of my health and labs are normal.  I had said from the start all these medications and hormonal imbalances  were a result of my chronic pain.  There is no way to prove that, but I submit at this point my experience.
My menstrual cycle is normal, and predictable, my inner pelvic pain and pressure that comes with my periods is gone, pain with intercourse is gone, horrible crippling craps during my period, gone.  Every single symptom that lead me to beg my OBGYN for a script for Physical Therapy – gone.  neck and upper back pain, gone.  searing butt pain, gone, burning muscle pain all on hips, butt and into thigh, gone. All that remains are the pains I listed above that come with heavy lifting from a deep squat.
I admit, I've gotten "student lazy".  I am not exercising like I should, I sit, A LOT.  Which reminds me I am better, cause the idea of sitting for 9 hours a day would have been impossible a year and a half ago.  So all that blanace I mused about, it's gone and I need to find it again.  This last year has been about pushing though mental barriers for me, proving I CAN do it, and it won't hurt, trying things even though I was afraid, letting others know how scared I was so I could get the reassurance I needed and be pushed on things that I knew I needed to do.  It's been hard to be that vulnerable with others sometimes, but each and every time it's been worth it.  Every time.  I literally wouldn't have made the OBGYN appt without the fear of my dear friend posting my failure on facebook!  The emotional toll of chronic pain and spiral of Dr's has been taxing, and deep.  Rooting out the fears to keep on keeping on isn't always easy, but it is always worth it.
2 years ago I laid on a hospital gurney crying my eyes out praying this surgery would give me some of my life back.  The ability to parent my kids, to sit through a swim meet, to drive them to places, to cook meals for my husband, to be intimate with him without pain.  I have gotten so much more.  My passion for helping others get direction for this pain has only continued to grow, and I am proud to let you all know that there are people out there working on laying a foundation to help with research for SI pain and dysfunction.  Within the next couple months a new foundation will be launched;The Sacroiliac Joint  Dysfunction Foundation.  We aren't totally ready yet, we are laboring over our website so it's easy to use, to access information in a way that is user friendly and doesn't stress someone in pain out.  We will have a forum where you can interact with each other and build a community of people who care for one another, who help each other research and share  knowledge and resources, it will even have a blog feature so if you want to try your hand at something like this you can keep it right there on the site – we will handle all the maintenance and all you have to do is write!  We have so many ideas and things we want to bring to you, so many things we want to do, and we will, the same way I have gotten here.  Baby step by baby step.
There is ALWAYS room for one more and we understand how chronic pain can make it harder to get things done, so we have promised ourselves we will be understanding and help you accomplish what ever you agree to.  We all need to feel like we are part of something, and we all need to feel like we can still contribute.  We want to be a place where you can do those things!    I promise I will give more information as we are closer to launching the website.
Contact me at amy@restoringvenus.com if you want more information, or to help.
With much gratitude today,
Amy
President
SIJD Foundation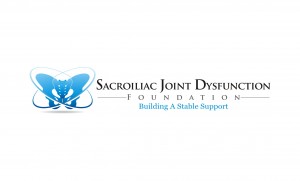 "The Sacroiliac Joint Dysfunction (SIJD) Foundation is a non-profit 501 (c)(3) whose mission is to:
Provide a voice, visibility and support to those impacted by Sacroiliac Joint Dysfunction.
Promote awareness of current and best practices, and additional resources to enable educated decisions.
Pursue and encourage continued research on the most effective means to evaluate and treat this condition in order to establish a multidisciplinary standard of care for those who suffer with SIJD. "
The Sacroiliac Joint Dysfunction Foundation
PO Box 57
Walnutport, PA 18088
501(c )(3) # 45-2888909 all donations are tax deductible.