A mindfulness journal to help you reconnect with yourself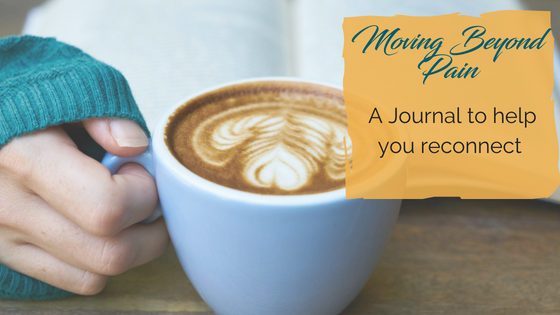 When pain persists it is not uncommon to lose pieces of ourselves and not even realize it.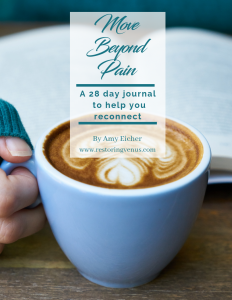 I've written a little 28 day pain journal to help people with the aspects of pain that are not "stretching and exercise". It grew out of reflection on my own journey with pain and seeing how I had lost touch with myself, my dreams, my goals and how pain had seeped into everything in my life. I had stopped living and was simply existing. Simple pleasures like a conversation with a friend or sitting on a park bench and watch the clouds drift by seemed impossible. Life was consumed with getting better, being frustrated at medical professionals with no answers, research for answers on-line, lotions, pills, and routines to ward off pain consumed most of my mental, physical and emotional energy.
Get Started with Your Journal Now
Pain is exhausting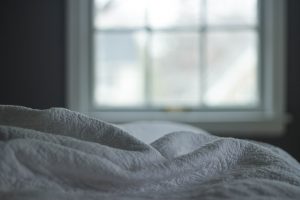 I was exhausted before I even got out of bed. Life seemed impossible with 2 young children who deserved a mom to play with them, bake with them, clean their clothes and drive them to play dates. At the height of my pain I couldn't figure out how to shower and get dressed much less PLAN something.
In hindsight, which always seems to be 20/20, I was able to see how small my world had become and it was shocking. I think that's an understatement. I was no longer doing ANYTHING that helped me feel purpose of joy or use my talents and gift sets. My emotional and social outlet was 60 minutes of Physical Therapy 3 times a week. That's not enough for anyone. Even when in pain, we are still humans, with needs, and learning to live differently to accommodate those needs can be challenging.
How did you get out of pain?
Since my surgery and journey out of pain people have asked " How did you do it? how did you get rid of your pain?" It's a simple and not so simple answer! I had to examine a lot of the things I believed about my body and my care. I had to examine a lot of the things I believed about myself. Some things needed to change in my thinking in order for me to be at where I am now. I also needed to reconnect with hope, and people and simply live differently. I needed to move, to plan, or at least to try! As I piled up small successes it made me want to try for more. I had to balance hope and failure, desires and reality – it was HARD! While I worked on my physical recovery, I also went through an emotional recovery.
Pain is more than tissue
If you have been around my blog at all, you know I keep saying persistent/ chronic pain is more than just a tissue issue. In order for pain to be felt, a threat to the body must be significant enough to elicit a pain response. So, when I am freaking out that I am never going to get better, that no one can help me, that nothing is going to change… I am firing up the alarm system of my body for some BIG stuff.
Toss in the sadness at not being the mom I want, the wife I want, the friend I want. The feelings of anger at losing my career, my ability to use my gifts and talents, the LONG duration and all that I felt was taken from me. ALL that was VERY real and a VERY real threat to my existence!!!! I didn't feel like I WAS existing!!!! I didn't realize it at the time, but I felt like a shell of a person, just waiting for the next therapy session to help lower the pain.
Pain is complex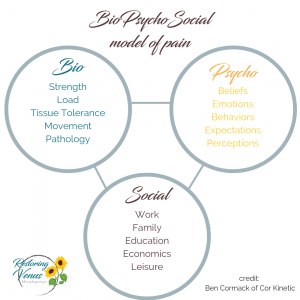 Thoughts like mine are common. They are real. They are had for very good reasons. Life does feel like it's ending. Stuffing emotion is never a good idea, it seems to sit right under the surface and jump up at really unhelpful times. However, we also have to acknowledge these thoughts, feelings, and realities do play into our pain. This is simply the reality of the complexity of persisting pain. IT doesn't make your pain in your head, or fake or psychosomatic…. it just makes your pain, pain.
Much like love is complex, so is pain. It is an experience, often an all-encompassing experience. As many have experienced, when love ends, there is also very real pain. Yet we never question the reality of that pain. The death of a beloved pet or person causes us to grieve deeply and to feel loss. When we grieve and mourn the loss of the future we planned or the history of the people in our lives, no one questions if it is real, or why it is felt. We simply accept these experiences hurt.
I invite you to see persisting pain as an experience like love, grief, mourning, or joy. It is no more made up than the other experiences we have. So please, allow yourself to grieve, mourn, and wrestle. These experiences make you so beautifully human. They make you so richly alive. Allowing yourself the right to feel betrayed, angry, lonely, frustrated and all the other negative emotions that can accompany pain is part of the healing process.
Finding the Positive: week one
Then, when you are ready, it's time to move forward. For now we are going to address moving forward emotionally. I have created this journal to give a taste of taking stock of where you are. It is so easy to be stuck in a pattern of survival. We forget what comes next, or how anything outside of our current patterns look. The first week of the journal invites you to find a few moments of positive. For some this may come very naturally and be very easy. For others this may seem an insurmountable request. I invite you to remember this is your journal, not mine, not your spouses or anyone else. Only you have to see it. If a prompt is simply too hard, skip it.
Caring for Yourself: week two
It's all about learning to care for ALL of you. Not just the physical part of you – but that is equally important! Self care is a word that carries a lot of baggage to some. I wrote a post on it here because I do think we need to take a look at how we are tending to our whole self. When pain starts to eat up our bandwidth for living we often forget things like hobbies, intellectual pursuits, and simple pleasures that are unrelated to our "health care routine". My hope is you can rediscover some of those things in your exploration this week. Depending on where you are at in your journey the things you will do are different! That's ok! Each of our pain journeys are unique, I just want to get you thinking.
Goals: week three
Did your blood pressure rise at even the thought of the word? I know there was a time when mine did. It was too frightening! Making a goal, to me, brought with it the subtext of belief it could be accomplished. It took a long time to allow myself to hope I could meet any goal much less big ones. I find it ironic that though out my children's lives I have encouraged them to set small goals in order to feel the joy and achievement that comes with meeting them. It would seem I had forgotten the same principles apply to us big people.
When we set goals, no matter how small, we are practicing a variety of things: hope, discipline, planning, expectation, follow through, and self-care to name a few. It may be you are a goal setter extraordinaire, or that you have never really set goals for anything, ever. Either way, it's ok. Just give it a go when you get to week three, I'll help walk you through it.
Reconnecting with the World: week four
When resources are slim it is not uncommon to pull in the fences and keep things tight to the homestead. That's ok. I get it! I just want you to remember there is a world out there that loves you and cares for you. They probably wonder how to help and what to do. So week four is focused around seeing beyond ourselves in a different way and connecting or reconnecting with people who help make us feel good. Taking an opportunity to help others feel good too. Focusing our attention, even for a short while, on others can help us see things differently, which can help our pain.
My hope for you is this journal is simply a way to step outside of yourself and reflect a bit. To see if you can find some space, and maybe some parts of you that you lost or misplaced a long the way. I would love to hear from you and what you discover on your own journey. So please print this out, share it with those that you think can use it. Keep in touch and let me know how it goes!
With Hope for you,
Amy
Join me on facebook or instagram to share stories with me use hashtag #restoringvenus