16 weeks
This week has been a really great week physically. I had two awesome PT sessions where my Pt really pushed me hard to show me I wouldn't break, and all the between time has been pretty normal. I really figured I would be bed ridden after all we did on Tuesday and I wasn't , and then we did it again on Thursday and I still feel good. I was able to walk a mile for the first time in I can't remember on Wednesday and I plan to do it again today. 16 minute mile… might not be ready for the Olympics, but I was impressed 🙂
My neck and shoulders are really starting to burn again – I do have 2 herniated disks up there that sent me to PT in 2008, it's actually how I found my PT. But as I am more upright and active those muscle weaknesses and imbalances grow. My at home PT stuff was adjusted to help keep that to a minimum and I am trying to work to strengthen those upper back muscles so my trap doesn't get overly involved in everything I do… I swear it's like the piriformis of the upper body! I'd be lying if I didn't say it bugged me, it feels like one more thing to unravel… I mean I am finally walking and feeling good – does something else really need to act up now…. but the answer is yes… and that will straighten out too… last time 6 weeks of therapy fixed it – So I am hoping that it won't get nearly as bad as the first time…. I had weakness and tingling all the way into the left hand… it wasn't good…. right now it's just a gigantic knot and will present in a headache if I don't watch my body mechanics closely.
Over all I am HUGELY improved. I got a little perspective from a patients wife at PT. I was balancing on this balance board while holding on to a theraband that was being pulled in all directions 9 MAN that is H.A.R.D. but the sweet woman told my PT I was going to NEED surgery if he wasn't careful with me! We both laughed and said this is the Recovery from surgery! She and her husband have been there the whole time I have and are always the appt right after me. She commented that i looked a lot like her husband when I got in there, he suffered a stroke 10 years ago, and I was struck… she was so right….. I was doing the same things he was doing now a few weeks into my PT…. it took him months to get there….. It was a harsh look really, but in a good way…. I really did look horrific when I got in there the first time after surgery… my legs weighed a million pounds and breathing was hard….. Now I think about getting on a bike, or trying to run…. I think maybe I should try a 5K… and I HATE running. I've NEVER run, but now I am wondering how long it might be before I can try…. I think about popping in my yoga video… I think about scuba diving again…. I think what would happen if I tried to walk a mile and a half today?
The world is opening up, I feel like I am turning back the clock and getting younger… I don't feel like a 95-year-old trapped in the body of a 36-year-old anymore….I can even sit while I talk with you all on the computer!
yes, my little glutes still hurt, but it's less hurt than it was last week… I am still pretty sure there is more up and down to this part of my journey and that any day now I could be saying – oh gosh it hurts so bad and I am back in bed to let it calm down… bending is getting easier but it's not completely without pain… I have to think about tightening everything up before I bend. My hamstrings are also starting to tighten again due to my lower lumbar still being weak… the at home PT stuff addresses that and I am sure that will all start to change, but for now I would love a picker upper stick like the garbage guys on the road use… or one of those granny grabbers…. 🙂
I am hoping to get out and garden over this mothers day weekend… I hope it goes well!
16 weeks 4 days
I had a really good weekend! I felt somewhat like a "normal" person. We didn't do anything amazing, just got some of the stuff done around the house that has been neglected all these months with me recovering. Like what you ask… putting my kitchen back in order after "helpers" putting away dishes 🙂 Dealing with the massive amounts of school papers that have come home and needed to find their way to the "circular file". The simple things in life-like that. Nothing huge, but certainly things that were so taxing before I couldn't accomplish them both in the same day.Saturday I simply sat on our porch reading a book in the sun while my kids played outside. Occasionally tossing a ball, or settling an argument. The big deal… I didn't have to be isolated from my family in need of pillows, and ice, and not being able to handle the emotional toll of parenting plus pain. I even got a little sun burnt and was sent inside by my husband. My internal reaction was to yell at him – WHY WOULD YOU SEND ME INSIDE?! WHY would you separate me? I don't care that I am burning to a crisp, I am HERE WITH you all! I decided that it would be stupid to argue with the man who was really just trying to keep me out of unnecessary pain 😉 He has seen enough of that and just wants to protect me… I appreciate that so I relocated to the couch with windows open 🙂
Mothers day was lovely. I was able to sit through church… it wasn't without pain… low pain, but I was squirming trying to stretch muscles that felt too tight, I always feel sorry for the people who sit in front of me with all the leaning and tilting I do to try to stretch stuff out. Our sanctuary is set up like a movie theater on a downhill slant… it was stressful to stand on, so I leaded up against the movie theater like seat and sang my heart out. It was good! After church we went to have a late lunch and i sat through a meal in a restaurant without squirming all over the place, flat floors help a lot! Then went home and got a nap in – and then went out and bought some flowers to plant in containers for the house. I was tired but not taxed physically, and THEN I went for a swim. I took video so you all could see what it looks like. It is REALLY important to me that you all are able to put this in proper perspective. I realize not everyone swims, and that even without SIJD it can be hard for others to swim… not for me, I think I would be a dolphin if I could be! So before I go on think of the thing you are really good at, that you love doing and that comes naturally to you… now think about how your SIJD has changed the way you do that thing. OK THAT"S how this is. Before my injury I would swim between 6,000 and 10,000 yards A DAY. I swam 600 yesterday. Even at the WORST of my sijd I would still bang out 1650 yards ( which is a mile) and it hurt like hell but I needed it for my head, not my body. It kept me somewhat sane.I say this so you don't think oh my I could never do that – she must be all better! I am BETTER, MUCH BETTER, but not all better. I don't know that my goal is to swim 6,000 yards in 2 hours again, but 3,000 sounds reasonable. So- there is my attempt at perspective – I am in the first 600 yards of my 3,000 yard goal. It's good, but it's just the start!
Where will you start in your recovery? What is it YOU want back?!
16 weeks 5 days
Many have asked how I was after my swim. the short answer is just fine, I felt like I worked out, but not in horrible pain or dysfunction! Those turns were more than I should be doing right now, I felt the strain on my body like a pressure, not a real bad pain, but I will lay off those longer until I am even stronger. My PT negotiated me down to being happy with swimming a mile as my goal and to consider anything more like a cherry on top… It's not that he thinks I won't be ABLE to its he wants to keep me realistic… I figure if I can swim a mile on a bum joint, well 2 actually, then swimming further than that once I am in shape should be a piece of cake 😀 BUT swimming once every 2 weeks is NOT going to get me in shape…. that's just reality. It will most likely need to wait until the fall. My kids get out of school in 3 weeks and then we hit summer running!
My trapezius in my left shoulder is all jacked up and hurting. At PT yesterday it actually hurt more than my rump! I am all taped up on the shoulders with that same kenesio tape – it really helps take some of the stress off that shoulder. I am starting more specific exercises for that at home. Last time I did SI and neck at the same time I had lots of days when I was really really tired physically… I am expecting this will be the same – it's just hard work putting your body back in order! Sitting at the computer is part of what my issues in the neck are all about, but I am so excited to SIT and type and not lay down!!!!Daily life gets easier and easier every week. I planted a bunch of pots in planters yesterday – I didn't think it would be wise to life the huge bag of potting soil at the store so I asked a persons that worked there to help me, and asked a neighbor to get it out of the car and set it on the front porch… it felt good to know my limitations and ask for help this time… it was different from before, in my head anyway. Before it was because I never able… now there is an end in sight – it doesn't feel as overwhelming. Maybe it's because I feel like I can give back…..
17 weeks
It's a good day. The last few days I have had,"full" days. Not a ton of activity and I "pay' a little, but I can be upright from 7:30-6:00ish. I tend to rest from 1-3 before the kids get home, but I can do light house work, I can transfer laundry ( it causes some pain in the hips) I can do some light to medium shopping – more than one store, grocery shopping for the family… I can sit and answer e-mails, talk on the phone… it takes more and more to wear me out and cause BIG pain. My PT continues to challenge me to my limits and show me things I never thought I could do. I still have a lot of inflammation that travels through the weeks. The upper outer hips are still acting up but less than 3 weeks ago… My shoulder is something that will need time and IS annoying and painful. I am still weaker on the left and neither one of us is sure why. He has asked me to concentrate on the left more than the right over the weekend with my at home stuff. I feel a little like a Kineso tape commercial today – my shoulder and rt hip are taped up to give them some rest over the weekend. I appreciate the help the tape gives.
My huge accomplishment today was for the first time ever I stood on the Bosu ball FLAT side up!!!!!!!! I felt like a freakin' rock star!!!!!!!!!!!!!!!!!!!!!!!!!!!!!! Now mind you my PT was squishin' me with the parallel bars so I didn't fall over, but DUDE I STOOD ON AN UPSIDE DOWN BOSU BALL!!!!!!!!!! Then Pressed out against the bars with my thighs. Then he handed me the theraband and started pulling in a semi-circle… it was hard, but then he told me to close my eyes! I DIDN"T FALL!!!! My body held me up… my glutes engaged, my core engaged… they WORKED – they held me up and steady (ish). I was a wreck when I started PT, barely walking and so little engaging… it's been 15 HARD weeks of work and I am not done there are still adductor and abductor work to be done – thoracic and lumbar that need to be stronger to move without concern. It was hard to hear but my PT did say today that those muscles couldn't really get more atrophied then they were when came back to PT. Good news… that means it MIGHT not take you as long to recover! I was fortunate as an athlete that I kept my core strong all those years… it protected my spine…. in a positive/negative way it kept me moving far longer than I should have, and all those long hours in the pool before I got hurt and maybe some of the ones after lent me muscle tone in the rest of my body. At PT I feel a little like an athlete again.. being challenged and desperately wanting to rise to that challenge… wanting to do what ever my "coach" tells me to do between practice… wanting my body to be in good shape, to feel healthy,,,I have started my post surgery diet… 1200-1300 calories a day…
I started at 178… I am 2 weeks in and am at 175… I'd like to get down to 155 again, but I might be happy once I get to 160 😉 It'll be slow and I am not going to stress, but I need to lose it, for me. When your 5'10" 20-25 lbs hides pretty well :)I have something else to tell you…. it is exciting, but it's also well.. it's important for you to hear, but it's the internet.. and while I don't' mind sharing with you, my friends, I realize there could be more people reading than I realize… so please remember I am just 1 person who desperately wants to share so others aren't so scared of what's on the other side…. so about week 14-15 my husband and I had sex…. I was scared out of my mind.. so was he to be honest… it had been so hard and so painful for so many years. I really can't remember the last time we had intercourse that it didn't hurt to the point of hardly being able to walk then next day. We would often time it the night before a PT visit so that I could get treatment the next day…. all the ice and stretching in the world didn't seem to help… and the longer I went in misalignment – the harder it was to orgasm…. it was sad, and hard on both of us and just horrible. I hated that it was so hard for me, that it was so hard on my husband – to know I would be in pain like that made it hard for him to even ask. I believe that it is important to a marriage and still had desire even in the mist of the intense pain. Well, we "did it" we had sex, and it didn't hurt… I cried and cried and cried…. I kept waiting for everything to fall apart- and it didn't. I was pain-free then, the next morning, the next afternoon.. not an ounce of pain.There is hope my friends, there is hope
17 weeks 3 days
My days are getting closer and closer to normal, and that is now exciting. Yes, I am still dealing with some aches and pains and muscle imbalances, meds, and tape all over – its ok. It is helping me live. I suppose most normal people don't have a constant audio in their heads that says tummy tight, hips under, shoulders back… watch your toes when walking or sitting or standing like I do…. so yeah it's a little noisy in the nogging trying to remember to use my body correctly! I do see that will end eventually… right 😉
Yesterday was my 7 year old daughters dance recital. She took tap, It was adorable! I mean really really really cute… all those little kids in their costumes looking all sweet …. I was watching this one number "tu tu cute "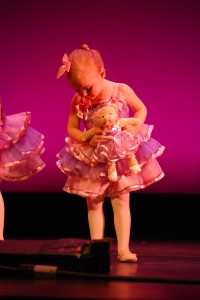 ( 3-4 year old ballerinas with TEDDY BEARS!) This little one on the end grabbed my attention, so little, still such a baby face and baby chub… and all I could do as smile, this precious little one just could NOT stand on one foot, actually none of them could without support- they ALL wobbled all over the place….. it just made me smile all over. They don't have the muscle or balance yet either. It was a perspective shift. These cuties will grow up and maybe be prima ballerinas with legs and abs of steel, but it will take them time and training. Like them I can stand on my own two feet and walk, and I think I can even say that I can balance better than these adorable little ones, I'm growing up again.
As the adults ballet class came out I watch memorized as I realized a few more things…. I don't know about you guys but I fought hard to keep my weight down and to stay somewhat in shape through out my life until and even through SIJD taking me down. I watched the adult class with desire, I had always wanted to go on point, and swore I would do it before I was 30… didn't happen, but i tried, in my mid 20's and again at the end of my 20's after the birth of my second son… WHILE I WAS PREGNANT with Erin….. I am watching these women twist and turn and balance and I am thinking to myself… wait… wait… all those exercise class I took, the Pilates, the body tone, the abs and butt class with the lunges, and the bridges , and the clams, the yoga classes, that hurt me for days and days and days…. um they didn't' hurt me because I was out of shape! They didn't hurt me because I was weak! they hurt me because my pelvis wasn't staying where it was supposed to!!!!!!!!! I looked back further than just the last 5 years where life was so so so limited to the 10 years before that thinking about how bad the burn was after all those classes and how I chalked it up to being out of shape… that was PAIN, real pain that most people would have noticed as hey something is wrong here pain… but when you have experienced a 10 being the worst pain you have ever felt and it's SI pain….. you feel like a complainer…. you're not!!!!!!! Consider it,no matter where you are in your journey – take a look forward, and backward…. are you hurting yourself in the strive to be "normal" and you don't even recognize it because you think it's normal? Just consider it, ok?
17 weeks 4 days
UGH…. I have very intentionally made a very careful and calculated "recovery bubble" if you will around me. I tried to control my environment and my life so that I could focus on recovery while my kids continued on in their lives and activities and my hubby didn't have to run himself ragged. It worked really well – I have tremendous friends to thank for it… but My kids only have 2 weeks left of school and all the structure that allows me to work hard at my recovery ends…. My days will no longer be my own…. I will be swim mom and taxi mom….. I am the baby bird being shoved out of the nest and taught to fly…. Much of my life has been trial by fire… learning on the run…. I realize I sound like I haven't had 4 months to slowly rejoin my life… I have … slowly… but it still overwhelms…. I haven't LIVED this much in years… really… the last decade has been a spiral of life getting smaller – and in about 2 weeks BOOM, I am tossed back into the world that runs really fast! Ever notice how fast people walk in the grocery store, or how they pull their kids along through Target? I don't' WANT to move that fast…. I like the lesson I learned about smelling the roses – granted I was falling into them because I couldn't' stand up, but still!
I overwhelm easily right now with questions, Mom can we do this do that, can you get me, let's go here let's go there… everyone is ready to get me out stretching my legs and I am going… but it isn't easy to switch from TOTALLY guarded and thought out to carefree… not to mention my body is still not yet ready to be carefree… it's closer, but not yet. All the pieces now are big, I am carrying laundry again and usually that's ok, I am making dinner and again that's usually ok, but today I just HAD to sit like NOW… couldn't wait just felt like laying in the middle of the kitchen floor and sleeping… Somewhere around dinner I just lose the ability to keep on going, it's more emotional fortitude than physical… thought sometimes it is that too….
I promised a friend that I would mention something we talked about in my journal…. so here we go hard right coming, hang on!
Once we really get going in our study and conversations about SIJD and how to manage it "we" really focus on the fact our pelvis is out of alignment and needs to be put back the way it was – via PT, conservative therapy, prolo, or fixation/fusion…. but we don't really talk about WHY our whole pelvic girdle fails to stay where God put it! To my non medical understanding, the first cause is the ligaments… those ligaments, the strongest ones in the body, that are super huge and super strong… THEY FAILED… they are stretched, or torn, or injured and they are NOT doing their job, which is to hold the pelvis in place. I said to Melany when I first started considering surgery , " This ISN"T the RIGHT surgery! I need someone to replace my ligaments, NOT screw my pelvis together…. well apparently medicine hasn't figured out how to do that yet… so the various implants on the market are the next best solution…. that movement HAS to stop! That's why I chose this method, I had to get the joint to stop moving before i was ever going to be able to regain any strength… so for those of you thinking that you need surgery, but this isn't the right one… your right, but it's all we have for now, and I wasn't willing to wait any longer for modern medicine to catch up! Maybe someday if they figure it out – I'll ask them to back my screws out and just fix those ligaments, but until then…. I'll just stay "screwed" 🙂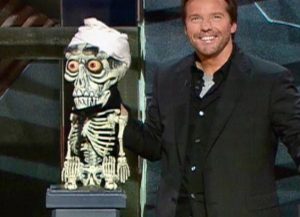 I have to include this clip because I love it so much.. some of the language is a little rough, but I love that poor Achmed needs ligaments too…http://www.youtube.com/watch?v=dq-VlHYaGYs&feature=related hope this makes ya laugh, I just think he really needs to be the SIJD mascot!
18 weeks 2 days
Ugh, I was so sick yesterday I wanted to die. It was horrible, yummy troubles all day. I got my period, was sick, AND was sore from PT the day before. I felt like I was back in the thick of my SIJD. I laid in bed all alone yesterday not being able to get comfortable, back hurt, shoulders hurt, neck hurt. everything felt swollen and yucky. I cried on and off all day. I was too weak from being sick to get downstairs, I have 1 glass of water and that was it from 7:30-4:00. My body wouldn't work, I couldn't sit up, rolling over hurt – oh it was so bad! I couldn't keep meds in me. My kids came home from school and got me more water, gosh I love them! They were both scared that my back was hurting, or my butt as my little girl says! I said no, it's not that, but I am really sick!
Being that incapacitated again was really terrifying. I know I have said it before, but looking back at where I REALLY was is so heartbreaking to do. The fear that I could get like that again kinda took over yesterday. I mean, this was how it started after my first successful round of conservative therapy. I got better and went on the pill for a year to not have a period to help heal everything up. After I went off the pill the time around my periods was the worst pain wise…. I know that is not what's happening here. Those screws WILL hold me in place, it doesn't' matter if the ligaments get more slack because the screws won't move – but the discipline of the mind it takes to not just freak out is exhausting.
It's really the hardest part of my daily life now too, the mental and emotional exhaustion. My body is mostly able to keep up with a fairly decent facsimile of a Mom of 2 grade schoolers life. However, the toll of referee and sheep herder is hard. I haven't built up a tolerance to it all again yet. It's a little like becoming a new mom again… where everything was so big and new and overwhelming, that's kinda how I feel about my kids lives. They move so fast and do so much… I am just not equipped yet to handle all that. I feel like I am moving in a slower motion than they are… like we are on 2 different planes sometimes.
I imagine that will change over the months, but for now it can just be weird and overwhelming. Sometimes I just have to stand back and watch, but at least I am standing!
18 weeks 3 days
So really, I am a rebel at heart, I really am… I hate rules and regulations… I follow them because I know they are important they keep me safe, they are generally put in place for a reason – to keep me from hurting myself… but I cant' seem to help but WANT to push up against those rules, those boundaries as hard as I can, just to see how firm they are…. I have been so good about living in the rules of my post op guidelines. I even had a check in with Vicki Sims herself this week so she could check in and weigh in on my progress. ( Apparently some of you all are letting her in on what 'm telling you all here!) but yes, I got a little finger wagging at the flip turns in the pool and a good dose of be careful and let yourself heal on Thursday from her… I was tongue-tied most of the conversation, but yes I have been checked in on and told to let myself heal, and reminded that it takes 6 months of the muscles to rewrite the message it sends to the brain…. so what do I do not 3 days later, after I have been told by the 2 medical professionals in this world that I trust and respect to take it easy this weekend….
I went for a 2 mile walk! Honestly, outside of Disney World, I have NEVER done that. It took me 36 minutes, but it was 82, the sun was shining, and I grabbed my hubby's iPod and got my sneakers out and just started walking and didn't stop….. I was tired of being out of shape and squishy… I was tired of being careful… I can FEEL my body coming back and being strong, I wanted to see how hard I could push it… I wanted to stretch those boundaries…. I'm kinda, cause didn't we just talk about why boundaries are there and why we listen to the people we trust…… I got about 1.5 miles into the walk and noticed that muscles were really starting to feel not right, my gait was changing, toes turning in ever so slightly…. wait PT told me that was to recruit other muscles because Glutes were done…. hip flexors working harder… stride not as long….. so I sat down and stretched right….. no, no I didn't… though I thought about it. Nope I put on my athlete mentality, those that know me and love me would say I was simply being stubborn, and are probably closer to the truth, and turned up the ipod with a favorite tune ( today's walk sponsored by They Might Be Giants: Flood) and walked the rest of the way home with a slightly smaller stride…. upon getting home I could literally feel all the muscles in the knee and thigh and butt spasming like popcorn…. it didn't hurt, but they pulsed like a fireworks display set to a timer. So what happened… well I hung off the kitchen counter to stretch IT bands and hip flexors and stuff, I backed my hips and butt in ice, and just got out of a nice epson salt bath with some camphor and methanol…I smell like a training room… My walk was 3 hours ago- the ability to feel any spasming has stopped, my low back is at a dull ache and my glutes say, "what the HECK were you thinking woman!" I really should apologies to them for not being careful and following the rules…. but all I really want to do now is buy my own ipod and do it again!
See rebel, rule breaker…. lets see how I'm feeling about this tomorrow… I don't' think the endorphins have worn off yet. just PLEASE don't' tell Vicki…. I promise I'll tell my PT, but shhhhhhhhhhhh leave "Momma" outta this!
18 weeks 5 days
HA! OK yes, I am a rebel without a clue! I am still paying for my own mini marathon physically. I iced and stretched and iced and iced and tens,and well you get it – I threw my all at the inflammation to get it to chill out before I got to PT today……. yeah…. we did a lot of soft tissue work today…. translation, not so much on the getting stronger part cause the muscles were all still broken down from my walk. (insert sheepish look here)
My PT looked into some strain counter-strain stuff that I have been asking about and it really did make an immediate difference in my shoulder and the outside of my hip, they almost feel normal again! ( I promise, no more 2 mile walks until I really am strong enough to handle it.) More ice and tens today though, that and just taking it a little easier. There is still laundry to do, but I won't put it away and I will lay down to rest as soon as I am done here.
Here's the thing about our rebel moments in recovery…. it only hurt me. Sure I felt like a rock star or marathon runner walking that far, and I had a momentary illusion of control. But ultimately the cost was too high. I lost Monday – had to ice and rest and stretch and was again a slave to pain ( not bad pain, but I had to stop or it would have been more.) I missed out on one of my precious PT days because it was more calming flare up than working harder to get better. I appreciate that my PT knows and expects me to do things like this every so often, but then I feel bad that I didn't make the most of the time that I have in there. So here's the take away lesson from my wise PT…. It's ok to explore what you can do, be careful and STOP when your body says to. But allow yourself some room for set backs ( like this one). We have all been trapped for so long, so limited…. we want to push, to try, to see what we are capable of, and that's ok as long as it's not every day, and that we learn from it. This little lesson that I keep repeating…. keeps teaching me I am stronger, I am not done, and sometimes failure is success.
The other thought I had that I wanted to share with you was something that happened to me the other day while I was with friends. I went to a going away party for a friend of mine and had a great time, this was after the epic walk and I was still able to spend 5 hours hanging with the girls drinking amaretto lemonade, ooo that was good…. no pain killers and no muscle relaxants that night meant I got to have a drink! Anyway, by midnight we were all leaving and some of the girls I am closer to were commenting on how awesome it was to have me stay the whole time and really get to talk with me and that I looked so much better, not in pain, standing tall and confident like my personality, all of it was very sweet… and then one of them said yeah it's so great to see you walk upright and not have to walk like this any more…. she demonstrated…. the lean, the limp, the shuffle, the small steps……. The rest of my friends cheerfully agreed, it was good to see me so strong, to have a life where it must have sucked before…. Something about the visual imitation of my walk was hard for my soul to bear. It wasn't meant to be cruel, but it stung to my very core. The breath kinda drains out of me as I type it…. It's hard to see how the world sees us – to us, it's just life… it's what we have to do to keep on…