Restoring YOU Ep 01 Katherine: Lower back pain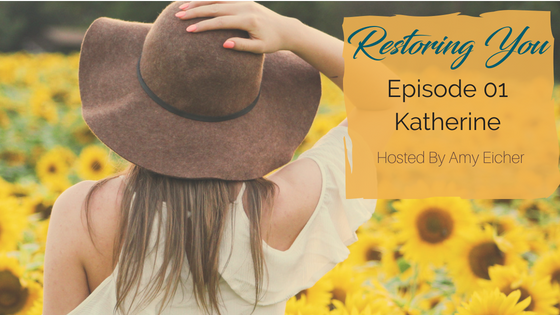 Restoring YOU ep 01 Katherine: Lower back pain
In this first episode of Restoring YOU  join me, Amy Eicher, as I talk with Katherine about her journey through lower back pain and how she found her ability to restore herself with volunteer work, & eventually learns to trust herself & her body enough to get pregnant after years of feeling she wouldn't be able to handle the pain of carrying, or caring for a child. Be inspired by her brave journey out of pain and into motherhood.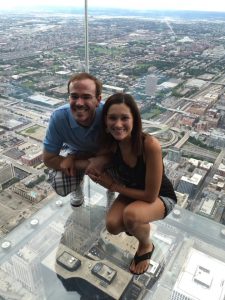 Meet Katherine!
My name is Katherine Riordan. I am 32 years old and live in Atlanta, Georgia. My roles include: a wife, daughter, sister and now a new mom. I am  currently enjoy the roles of motherhood and not working in the corporate world. Before becoming a mom, I worked in banking, accounting and as a Chiropractor's Assistant.  I love to fellowship with others, be with my family, travel, cook, read, exercise/nutrition and shopping
Her pain journey
After the  initial injury, the pain worsened for about a year. I felt like I'd lost everything. After six months of trying to make it through work in severe pain, I had to resign. My pain was debilitating while sitting and driving mostly, but also laying. There was no position to escape my pain and none of the pain medications worked. I had to rely on my parents to drive me while I laid in the back of the car crying. I lost my quality of life completely because everything I did I was in what I called "number 10" pain.
" If I tried to participate in anything social or church activities, I had to stand. I cried every night and had panic attacks because of the pain. My husband and I couldn't be intimate. I couldn't do my kickboxing and high impact exercise anymore.  I felt like I had lost everything. "
What happened next
Without God and my faith, I don't know how I would've made it to where I am now.  Through prayer and the grace of God I found a chiropractor that was able to help me after my si joint surgery failed to relieve my pain.  Physically feeling my pain levels going down was also a key factor in believing I would not always live like this. The more I felt myself healing, the more activities I tried to pursue ,slowly. I did volunteer work first for a hospice company and a ministry daycare that took care of physically and mentally disabled adults. Helping these people made me see I was still good for something. This volunteer work, although I still had some physical pain, helped me heal emotionally. Once I saw I was able to do some volunteer work and sit without pain escalating, I pursued a part-time job. I regained doing exercise again everyday. It wasn't kickboxing, but I could still walk miles on a treadmill or outdoors.
I never thought it would happen, but…
There were still little setbacks and pain here and there, but pretty much my life was normal. I got a part-time job, could sit most of the time without pain, could travel, exercise (although limited) and enjoy social time with friends and family again. After 7 years of being free from the debilitating pain, I decided to take a huge leap of faith and get pregnant. Something I never thought I would do, especially with screws in my pelvis.
I am now a mother of an 8 month old  baby girl whom I can enjoy and take care of.  

We go on 4 mile walks everyday with no pain.

Life Today
My life is completely different from when I was in pain all the time, and barely able to sit. Yes, I am known as the "fragile one" of the family. I remain careful with what I do. You won't find me moving furniture or lifting heavy objects and I am Okay with that. I have only had one setback in the past seven years (three months postpartum) that I felt the same pain I did for that year after the injury. There is still pain at times, but it is able to get under control with the help of my chiropractor and my faith in God.
She wants YOU to know
I want everyone to know To NEVER EVER give up. Even if the pain is so incredibly debilitating it doesn't feel like its "healable" and you are just broken. You CAN heal!  You can become pain-free again. To beware of self-pity, recurring thoughts, suicidal thoughts and anxiety. They will all put you in a bad place emotionally and will physically heighten your pain.   There were many times I didn't want to be here anymore, but have always known that is NOT an option. Volunteering helped me remember who I was. Look for what will help you remember who you are. It may seem strange, but  never ponder and focus on the pain when you were at your worst. It just causes fear. It's hard to heal when you are afraid of everything. Find something, anything you can focus on and let that lead the way to help you.
– Katherine