A Hot Epsom Salt Bath: Good for the Soul & the Aching Back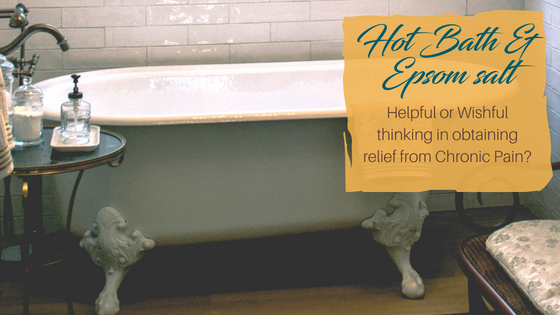 Tending an Aching Back with or without Epsom Salt
Often in the midst of pain we get so busy surviving we forget how to thrive. Simple pleasures like a warm bath become too taxing to initiate. Consider for a moment this ritual might be a window towards a thriving life. Consider, that a bath may be good for your soul AND that aching back.
I have been told bath's can be incredibly relaxing. At 5'10, I must confess,         bathtubs are not my favorite thing in the world, something is almost always sticking out of the water. I do love floating in a pool or being submerged in a body of water, so I get the draw of a bath.
I want to give you permission to go soak for a bit. Even if bits of you are sticking out. Feeling like you just don't' have the energy or stamina to even get the bath filled and get in it. Do something crazy, ask someone to help you. I know, this is hard because it means admitting we can't – right now – but it can be a good step in learning how to care for yourself.

A nice warm bath is a sensory experience.
Surrounded by water, heat, buoyancy, and even a little vibration if you have jets,  these are all good for pain, anxiety and depression. Think of your bath as time for you. Fill it with your favorite bath gel, or bath bomb, maybe some essential oils or epsom salts. Try lighting a candle, or playing your favorite music.  
It's about you and what you like, this is self-care. That word that we often have no idea what it really means…. It sounds "involved", but it's not.  It means doing things to care for YOU. Things that help you reconnect with who you are and what you dream of. Things to help manage your pain may be part of how you care for yourself, but they are not the only things that self-care is made of.  To read more about self-care, read this post.
I want you to understand there is great value in doing things simply because they feel good. Yes, that is enough of a reason to do something!  Sounds indulgent doesn't it! Do you realize that you, the person reading this is worth indulging! So enjoy your bath, your scrub, your smells, your epsom salt and  essential oils, but promise me you wont get caught up in the myths ok.
What do I mean by myths?
I want to bring some awareness to the idea that Epsom salts are somehow healing us with detoxification and recovery from minor injuries, aches, and pain.  A theme you will hear me talk about a lot is just because something helped us feel better doesn't mean the reason we were given is WHY we felt better. Science does matter, it helps us be less wrong.  
Do I think you should throw out the Epsom salt?
NO!
I love some salts in my bath, they make me feel silky when I'm done and I feel like I've done something for myself. I love the smell of the post workout one and how my skin tingles, like I REALLY did something to treat myself.
Do I think that the soak did something to suck out my toxins to relieve my sore body?  No, we can't really support that idea with research either. However, it does give me a sense of control and I like that!  
What I don't like is when I feel like I HAVE to participate in a routine to feel ok. That's not self-care, that's a trap.  I don't want you to be trapped by things that are just myths. Just like we don't want our kids afraid of the monster under the bed or in the closet. So here is my anti monster spray for Epsom Salt.
Research on the effectiveness of Epsom salt
Epsom salt has no scientific evidence that it does anything to help our pain. Which is why I don't want you to feel married to it. There is really only one unpublished study that even indicates we may absorb things through our skin as we bathe.  ( That's not really good scientific evidence by the way. )
Even if Epsom salts do soak through the skin, there is no direct scientific evidence whatsoever about what happens to them after that There's no chemistry involved that seems to have anything to do with common pain problems. In the  case of an epsom salt bath it would be very easy to mistake the benefits of the heat of the water for an effect of the salt.
A Swedish study published in the International Journal of Stress Management found that floating in water triggers the body's relaxation response, helping lower stress-hormone levels. Even better, nearly 80 percent of the subjects showed improvements such as feeling less tense and depressed.  Which is great news for when you run out of salt – you can still take your bath and receive benefits!!
A few others things you can read on Epsom Salt
https://www.rd.com/health/wellness/does-epsom-salt-work/
https://abcnews.go.com/Health/truth-epsom-salt/story?id=29675918
https://tonic.vice.com/en_us/article/evg7nk/theres-no-proof-epsom-salt-baths-actually-do-anything
Time to experiment
So test your own thoughts… does a bath of the same length of time and same temperature give you the same kind of relief your salt filled bath does?
Remember, if they feel good – use them.
Leave me a comment about YOUR favorite way to take a bath!
My favorite way to take a bath is with a crazy colored bath bomb and use some of the wonderful smelling sugar scrubs my daughter makes me.

use #restoringvenus on Instagram or
Join me in my facebook group on FB Chronic Pain Support, Stories, and Solutions.